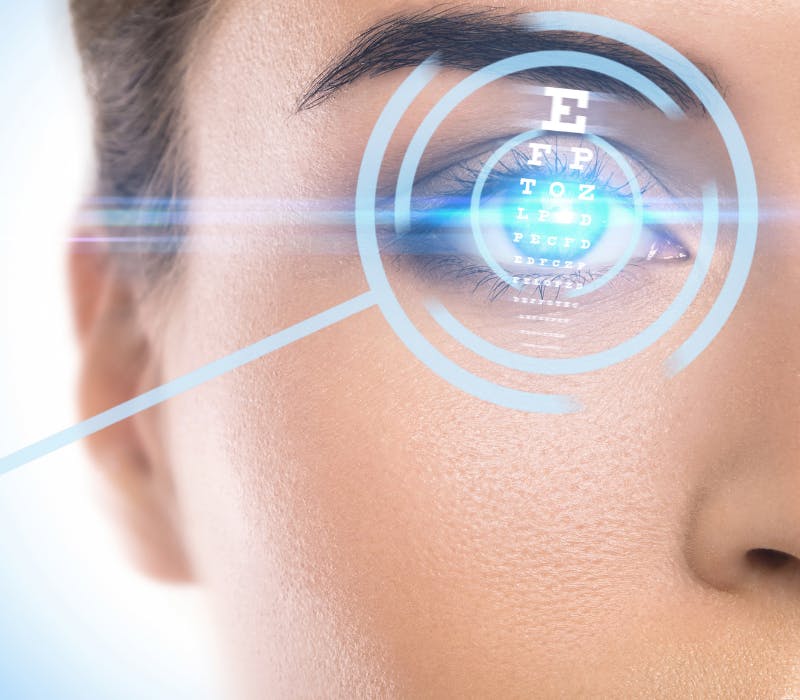 Everyone's eyes are equipped with a lens -- much like a camera -- that's responsible for focusing light rays that pass through it. Once those light rays reach the retina in the back of the eye, it eventually gets converted into an image with help from the brain. This gives us vision.
When you're born, this lens is generally crystal clear. It'll remain clear for most of your life, which is why we're able to see so clearly without blurred vision, faded colors, or hazy images. Without this clear lens, your entire view of the world will change drastically -- literally.
Unfortunately, not everyone is blessed with a crystal clear lens. Some people suffer from a cloudy lens that presents itself when the eye's lens proteins begin breaking down. This is called a cataract and it's one of the most common eye conditions among older adults.


The best way to imagine living with a cataract is to look out a foggy or frosted window. It causes blurred and cloudy vision that makes it difficult to understand exactly what you're looking at. As you can likely imagine, a cataract creates a wide range of strain on your day-to-day lifestyle.
Can Cataract Surgery Help?
There's nothing enjoyable about living with a cataract, especially as you grow older. The good news is it's not the end of the world and there are ways to treat this life-changing eye condition. In fact, a trip to your local ophthalmologist -- such as Dr. Omar Shakir -- can help greatly.


At Coastal Eye Surgeons, Dr. Omar Shakir specializes in treating cataracts with cataract surgery, also known as lens replacement surgery. This is a surgical procedure that involves removing the natural eye lens and replacing it with an artificial lens called an intraocular lens.


During laser surgery for cataracts, Dr. Omar Shakir opens up the front portion of the capsule in order to remove and replace the natural lens. This is done in a safe manner to avoid any further eye complications. The posterior lens capsule is what helps hold the intraocular lens in place.
What Causes Cloudiness in the Eye After Cataract Surgery?
As we learned above, a cataract causes cloudy vision due to a cloudy eye lens. Cataract surgery replaces that eye lens with an intraocular lens that resembles a crystal clear natural lens. If that's the case, then what causes cloudiness in the eye after cataract surgery?


It might sound counterproductive, but this is a common eye complication following cataract surgery. The condition is referred to as Posterior Capsule Opacity (PCO), or secondary cataract for short. Despite being a common complication of cataract surgery, it's also easy to treat.


While the symptoms of Posterior Capsule Opacity (PCO) often mimic those of a cataract, don't be fooled because it's far from it. In fact, it's caused by the cloudiness of the thin, elastic-like bag holding the intraocular lens in place -- also known as the lens capsule.
Treating Cloudiness in the Eye Following Cataract Surgery

Cloudiness in the eye following a cataract procedure can either happen immediately or over time. It often makes cataract patients feel as if the cataract surgery didn't work, but that's not always the case. In fact, it just means you need a follow-up with Dr. Omar Shakir.


When this occurs, Dr. Omar Shakir performs what's known as a Posterior Capsulotomy, also known as YAG treatment. It's a form of laser treatment that involves opening up the thickening that occurs around the lens capsule -- allowing more light to pass through.


This extra light is often all you'll need to restore vision and relieve the cataract patient from cloudiness in the eye after cataract surgery. The sooner this second treatment is administered, the better off the patient is. Before you know it, you'll be seeing clearly once again.
Recovering From Cataract Surgery, PCO, & YAG Treatment

Suffering from a cataract is one thing. Going through cataract surgery and still experiencing cloudiness in the eye is a completely different story -- especially for those that don't fully understand what Posterior Capsule Opacity and YAG laser treatment is.


The good news is these are extremely common occurrences in anyone visiting their cataract surgeon. Cataract surgeries are known to have one of the highest success rates of any surgery, even when PCO and YAG are needed. The road to recovery is often effortless for the patient.


With that said, it's important to note that recovering from cataract surgeries is different for each individual. You should always follow directions from Dr. Omar Shakir before, during, and after cataract surgery or YAG laser treatment. With his help, you'll be well on your way to clear vision.


A follow-up appointment is extremely important following cataract surgery. You should be 100% open with Dr. Omar Shakir and feel comfortable throwing any questions you might have his way. Dr. Omar Shakir is here to help and that's something that will never, ever change.
Are You Experiencing Cloudiness in the Eye?
Cloudiness in the eye can be caused by a wide range of eye conditions and vision complications. A cataract is the most common, but it can also be caused by macular degeneration or diabetic retinopathy. Either way, it requires proper treatment and care.


Whether you're experiencing cloudiness in the eye due to a cataract or cloudiness in the eye following cataract surgery, don't hesitate to reach out to Dr. Omar Shakir at Coastal Eye Surgeons immediately. The sooner you reach out, the sooner Dr. Omar Shakir can treat it.
Contact Coastal Eye Surgeons Today!
There's nothing we love more than restoring your vision and ensuring your eyes are given the proper treatment -- no matter what treatment they need. At Coastal Eye Surgeons, our focus is your vision.


In addition to cataract surgery and YAG treatment, Dr. Omar Shakir specializes in dry eyes, glaucoma, floaters, eye allergies, and more. Contact us today for more information or to schedule your comprehensive eye exam at our boutique-style, friendly, and high-tech office. We can't wait to treat you!

Check out our article on What Causes Blepharitis & How Do You Treat It?